Welcome to StarSkate
Once your skater is working on Stage 5/6 of the CanSkate program, they will be invited to move up to our StarSkate session where they will have the opportunity to develop the fundamental skills needed for figure skating.
As your skater's skills increase, they will gradually move through the 10 levels of the StarSkate program. StarSkate provides the tools for skaters to develop self-confidence, motivation, time-management skills and determination.
Skaters at this level will have the option to participate in competitions throughout the season as well as be introduced to the test and assessment stream.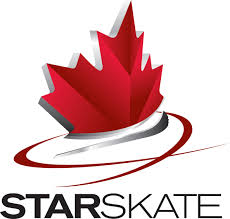 JUNIOR
Our Junior Star session is 50 minutes in length and includes a 10-minute stroking session and a 30-minute group lesson where skaters have the opportunity to complete CanSkate Stage 5/6 and/or begin working on Star 1. The lessons are taught in a group format in a progressive and sequential manner. Lessons are offered 2 nights a week.
Skaters are not required to hire a private coach at this level.

SENIOR
Our Senior Star session is for skaters who have passed all three disciplines (Dance, Freeskate and Skills) of Star 1. All sessions include a 10-minute stroking session as well as a 10-minute group lesson which focuses on edges, turns, spins, jumps, power and movement. The remaining ice time is for independent practice. Lessons are offered 3 nights a week.
Skaters are required to hire a private coach at this level.